The Road Less Traveled
October 3, 2013 • By Carolyn Crow
Go!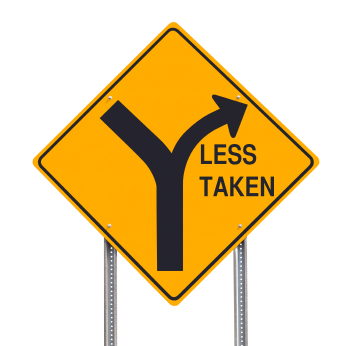 Wouldn't it be wonderful if we could look through a telescope of time and see our life in full detail, knowing that the outcome of every situation will have a happy ending? However, that is certainly not how life is. Life is a "Journey of Faith" and we must rely on God every step of the way, even though we do not know how it will turn out or where we will end up.
We are told in Genesis 12:1; that the Lord said to Abram, "Go!" and Abram went out and traveled to a foreign country not knowing what to expect. He did not know where he was going, and he certainly didn't have the luxury of carrying along a road map or a turn by turn navigation system. Though his faith was tested, Abram relied on God's word as He promised; "I will be with you and give you instructions as you journey along the way." In the end Abram received his promise.
My journey of faith was definitely tested when I was suddenly thrust into a new direction of life. I was baffled with the unfamiliar path while struggling with the fact that I didn't know where I would end up. I wasted many hours trying to decipher the details of my life, when God only wanted me to trust Him as He led the way.
It's much easier to trust God when we can see where we are headed, but God doesn't always show us that. Sometimes all we get is the next step. In Psalm 37:23, David reminds us that, "The steps of a good man are directed by the Lord, and He delights in every detail of our lives."
Perhaps your life has taken a different turn. And as much as you would like, you would prefer to take the easy road; one that is familiar, comfortable and convenient. The easy road may appear to be the right road, but don't be surprised if He sends you down the road less traveled. Moreover, the road less traveled is often the one that holds the greatest promises. "Go!" He's with you.
Visitor Comments (0)
Be the first to post a comment!