Life's Forecast
October 3, 2013 • By Carolyn Crow
The Righteous will never be Uprooted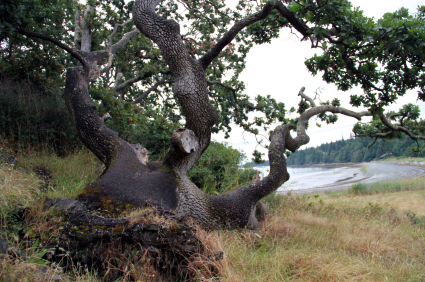 As I was driving home one afternoon from work, I noticed a storm had hit the area earlier in the day. And the huge oak tree that once dominated the view in my neighbor's front yard was no longer standing. The oak tree lay on the ground uprooted from its clayed soil and its branches shattered to pieces. The oak tree looked strong and resilient in appearance and full of substance, but its roots were shallow; therefore it was not strong enough to weather the storm.
We all are like trees subjected to the stormy elements of life. If our roots are shallow we will either snap or uproot from our foundation, and on the other hand, if our roots are nourished with the right nutrients we will become fertile and grow stronger.
Jeremiah 17:8 records, "They are like trees planted along a riverbank, with roots that reach deep into the water. Such trees are not bothered by the heat or worried by long months of drought. Their leaves stay green, and they never stop producing fruit." (NLT)
Throughout our lives we will encounter the storms of life. We may not be given a weather alert or a day to day forecast to let us know when they are coming, but we can prepare daily by grounding ourselves in God's word. His word which is our support system makes us stronger, so when we're surrounded by the black clouds, the heavy rain and raging wind, we will not be easily moved.
Proverbs 10:25 declares, "When the storm has swept by, the wicked are gone, but the righteous stand firm forever." "The righteous will never be uprooted." (Proverbs 10:30)
Life's forecast may have a few storms headed your way, but the Son is still shining on the other side of those dark clouds and He will eventually breakthrough.
Visitor Comments (0)
Be the first to post a comment!