New devotional offers advice
from Scripture to help readers through life
Author shares story of husband's battle with cancer to identify with readers, help with struggles
ARKADELPHIA, Ark. - The world today is filled with the daily struggles of its inhabitants. Everyone has a different way of dealing with their individual dilemmas. When author Carolyn Crow found out her husband had bladder cancer, she knew the only way she would get through the experience was to put her faith and trust in Jesus Christ.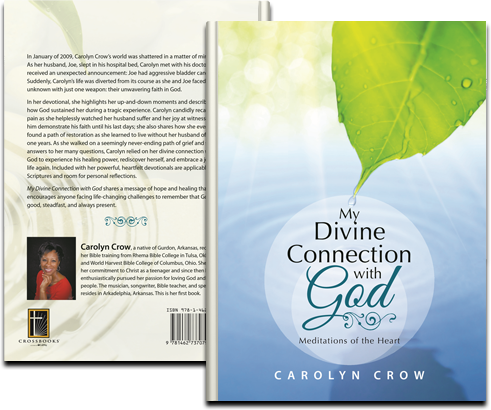 "My Divine Connection with God"
By: Carolyn Crow
As a way of documenting her journey, Crow began writing her new book, "My Divine Connection with God" (published by CrossBooks). In this devotional Crow tells her story, starting with her husband's diagnosis, interspersing her account with Scripture and prayer.
As the story goes on and Crow loses her husband, she offers a candid explanation of her feelings, accompanied by Scripture. She converses directly with readers, encouraging them to record their own reflections on the many and varied trials of life.
"If you are looking for a book that can help you face unexpected challenges in today's world, this is the book for you," Crow says. "It will inspire you to trust God more and help you keep a clear perspective on life-changing challenges."
About the Author
Carolyn Crow received her Bible training from Rhema Bible College in Tulsa, Oklahoma, and World Harvest Bible College of Columbus, Ohio. She made her commitment to Jesus Christ as a teenager and since then has enthusiastically pursued her passion for loving God and serving people. The musician, songwriter, Bible teacher and speaker resides in Arkadelphia, Arkansas. "My Divine Connection with God" is her first book.
About the Publisher
CrossBooks, a division of LifeWay Christian Resources of the Southern Baptist Convention, is a Christian publishing imprint committed to bringing more Christian voices into the publishing industry. Established authors, first-time authors, and authors anywhere in between can meet their goals and fulfill their vision for their books by publishing with CrossBooks. CrossBooks' innovative style of publishing blends the best of traditional and self-publishing. While our authors contribute monetarily to cover the cost of publishing, we maintain a strict moral and quality standard that every manuscript must meet for us to publish. For more information on publishing your Christian book with CrossBooks, log on to crossbooks.com or call 1-866-879-0502.